Since its incorporation in 1995, the Charlotte Land Trust has acquired 14 easements on properties in Charlotte. The property owners either donated or sold the development rights to their land. The land trust monitors the property once a year to insure that there are no violations to the terms of the easement. CLT holds easements on lands we feel are locally important to conserve but might not be large enough to be held by our statewide conservation partner organizations which tend to focus on properties over 50 acres.
In addition to the 14 easements we hold, CLT has been instrumental in helping secure conservation easements on approximately 19 other properties in Town which are held by other conservation organizations, including the Vermont Land Trust, Lake Champlain Land Trust, and the Nature Conservancy. Please refer to the map of Conserved and Public Land to see where these properties, as well as other protected lands in Charlotte, are located.
Easements Held by the Charlotte Land Trust
West / Sauer-Mares River Front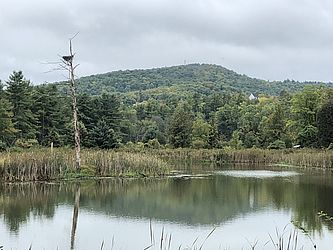 West / Sauer-Mares (2018):
In 2018, the Charlotte Land Trust conserved approximately 77 acres owned by the West Family Trust. The property has almost a mile of Lewis Creek frontage and the project protects the scenic and natural features of this important resource. The conserved land is a mix of meadow and forest with wildlife habitat of local, regional and state significance and is particularly important as a piece of a larger pattern of wildlife habitat on conserved land in East Charlotte. An approximately 8.5 acre section of the property was excluded from the easement. The property was transferred to new owners after it was conserved. Funding for the easement was from the Charlotte Conservation Fund and the Charlotte Land Trust.
Burrill Property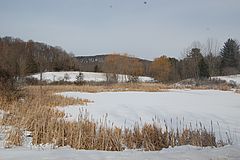 Burrill / Faulkner (2013):
In 2013 George Burrill and Lola Van Wagenen donated an easement on approximately 24 acres of their property on Higbee Road. The land is largely forested with some upland pastures, streams and ponds. The property contains clayplain forest, including a relatively unusual variant of sand over clayplain. The property is important as wildlife habitat and is part of the overall wildlife corridor from Pease to Mt Philo and the Thorpe Brook corridor.
Murphy / Porter Clayplain Forest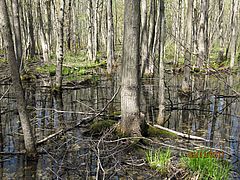 Murphy / Porter (2012):
A spectacular piece of property off of Orchard Road in northwest Charlotte which features a fine example of the native wet clayplain forest that once covered the Champlain Valley. This 34 acre forest is part of an adjacent clayplain forest community that has state wide significance due to its size and its rarity. Through a donation from Liam and Laura Murphy, the land is conserved and currently owned by the Doris Maeck estate. This property is a gem in a strand of protected properties that represent fine examples of Charlottes's different natural communities.
Ross / Diaz Property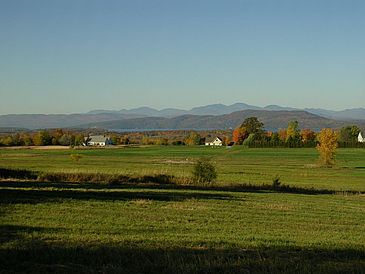 Ross / Diaz Property (2008):
The location of this 46 acre open meadow on Mount Philo Rd. was always considered a high priority for conservation because of its immediate proximity to the Mount Philo State Park and as part of the foreground view from the top of the mountain. When Peter Ross and Mecca Culbert decided to buy the land and conserve most of it (carving out one 6 acre house lot for future use), CLT jumped at the chance to partner with them. The cost of purchasing the development rights was less than the appraised value and represented a generous donation (bargain sale) from the Rosses. The Town contributed towards the purchase price from the Charlotte Conservation Fund and CLT conducted a vigorous and successful campaign to raise the remainder of the purchase price.
Tractor on Lockhart Property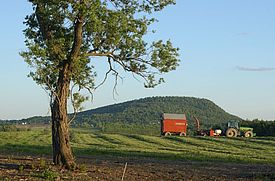 Lockhart Property (2004 and 2001):
The Lockharts have donated conservation easements on both sides of the Charlotte-Hinesburg Road. The parcels, 5.7 acres and 22.7 acres, are amid an expanse of actively farmed land – an area identified in the Charlotte Town Plan as one of the town's foremost agricultural areas. The parcels have high value agricultural soils and sweeping views across an open valley.
The parcels are key portions of farmland used by two farmers, both adjacent and nearby. The larger portion is used by a farming operation that is also conserved, and was one of the first to do so in Charlotte.
Hinsdale Field on Route 7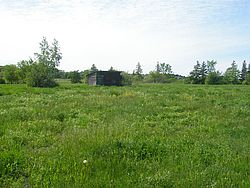 The Champlain Oil Company / Hinsdale Property (2003):
Champlain Oil Company donated this 14.6 acre property on the Ethan Allen Highway/Route 7 to CLT. CLT was then able to sell the property to Clark Hinsdale who donated a conservation easement at the time of sale. The property is open field and is part of a broad stretch of agricultural land along this very scenic portion of a highly traveled state highway. Conservation of this parcel not only generated income for CLT but also filled one of the gaps in a significant area of conserved land.
Larry Johnson Field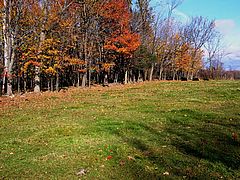 Johnson Property (2003):
The conservation of this 26 acre meadow off of Lewis Creek Road filled in the missing gap between other large areas of conserved land surrounding this parcel on three sides. By protecting this land, CLT ensured the long-term integrity of approximately 300 acres of critical wildlife habitat. CLT purchased the easement for this property from Larry and Louise Johnson with help from the Charlotte Conservation Fund and from interested neighbors and CLT donors.
Frost Property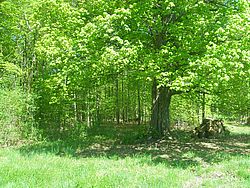 Frost (2002):
As part of the larger Burns/Old Lantern property transfer in 2000, CLT purchased 62 acres as an interim measure until conservation minded buyers could be found. The Frosts purchased a portion of that from CLT, with a limitation to one housesite, and conserved 16.5 acres of predominantly wooded land with scenic and habitat resources. Of particular importance as part of this transaction was the creation of an easement for a public recreation path.
Sunshine Through Kingston Trees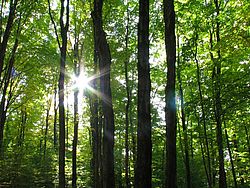 Kingston (2001):
The Kingstons were one of the purchasers for a portion of the 62 acres CLT acquired as part of the Burns/Old Lantern transaction. Their lot was limited to one housesite and the Kingstons donated a conservation easement on 26 acres of this lot to CLT. The property is largely wooded and is adjacent to Barber Hill, a scenic Town owned property. In addition to preserving the natural resources of this site, the conservation easement ensures that the Town land will be protected from the impacts of adjacent development.
Rosenthal / Naud Property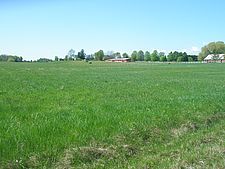 Rosenthal / Naud Property (2000):
The Rosenthals donated a conservation easement on 11 acres on Holmes Road, near Lake Champlain. The property is all prime and statewide soil and is part of a larger area of open space on adjacent parcels. Conservation of this property enhances the protection of the area's agricultural use, wildlife habitat and scenic rural views.
Field on Lavalette Farm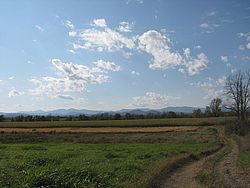 Lavalette / Mack Property (1998):
CLT purchased a 45 acre portion of the Lavalette farm on Greenbush Road to protect its scenic views, prime and statewide agricultural soils and septic capacity. The farm sits at the edge of the historic West Charlotte Village so the septic capacity is a valuable asset for future Village development. Because CLT was able to act quickly this resource can now be held in reserve for the time when it is needed. To recoup project costs CLT sold a portion of the land for limited housesites. The Macks purchased 26 acres for agricultural use, with a conservation easement. In addition to protecting farmland and scenic views the project also resulted in a trail easement for future public use.
Alpeter Field in Spring
Pete / Alpeter Property (1998):
Rick Pete donated a conservation easement on 20 acres of open pasture and woodlands at this property on Prindle Road. The mix of woods and fields, old stone walls and hedgerows throughout the conserved property are an excellent example of an historic landscape pattern that continues to define this section of Charlotte. The easement also protects the property's wetlands, intermittent streams and associated high value wildlife habitat for moose, bobcat, fisher and coyote.
Camel's Hump from Bergh / Phillips Property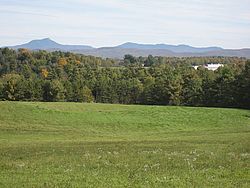 Bergh / Phillips Property (1997):
A spectacular piece of property off of Spear Street which features agricultural land, wetlands, fields and woodlands. This notable example of Charlotte open space was conserved by one of CLT's original founders, Peter Bergh, and his wife Debby. The Berghs donated the easement on these 125 acres to CLT.
Dickerman Pond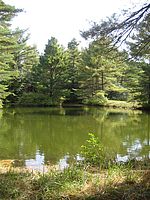 Dickerman Property (1996)
The Dickermans wanted to make sure that their beautiful piece of land would be conserved forever so they donated an easement on 66 acres to CLT. The Dickerman's property features open fields, woodlands, ponds and views of the Adirondacks. The early conservation of this property, along with the adjacent Bergh/Zweber property, allowed for almost 200 acres of rich wildlife habitat and agricultural land to be conserved in a key part of East Charlotte.