Current Projects and Recent News
Dylan Preston, will purchase farmland at the intersection of Guinea and One Mile road thanks to a Vermont Land Trust conservation easement and the help of another local farmer. The purchase will include funding by the Vermont Housing and Conservation Board, the Charlotte Conservation Board, and the Charlotte Land Trust.
Nichols Fodder Farm and Hausmann/Hinsdale Farm
The East Charlotte Farmland Projects
Hay Wagon on Nichols Farm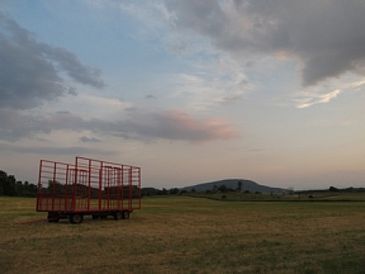 A Rare Opportunity
It's a rare opportunity to have two outstanding conservation projects happen at the same time. The Charlotte Land Trust (CLT), together with the Vermont Land Trust, is working to complete the conservation of two very important projects this year. CLT has begun the final push to complete fundraising and bring the projects to successful conclusion.
The two projects are in East Charlotte, abutting both Spear Street and Bingham Brook Road. The Nichols farm and a portion of land owned by Nancy Hinsdale, to be sold to berry farmer and orchardist Adam Hausmann, are key components in Charlotte's agricultural landscape. Conservation of these parcels not only preserves exceptional farmland, it reverberates far further in strengthening our agricultural landscape, economy and rural future.
The Nichols farm is a longtime successful farm specializing in hay and other fodder crops. Dave Nichols is committed to the future of farming on his land. His family's decision to conserve the bulk of the farm is a guarantee that the land will continue to be open and productive. The project also provides for a public trail easement and protects natural areas, including sections of clayplain forest.
Adam Hausmann is a successful berry farmer and orchardist expanding his operation onto land he will purchase in Charlotte. His new farm helps diversify Charlotte's farm economy and brings a young farmer into Town. His passion for his work includes public outreach and education on the importance of local foods and sustainable food systems.
Both projects have already received grants from the Vermont Housing and Conservation Board and the Town of Charlotte Conservation Fund. With the major pieces of funding in place it is now time to close the remaining gap with local support.
Your support is essential. Please join us in conserving two productive, scenic and key pieces of our landscape. Your contribution is a lasting and visible gift to the land, both now and into the future.
The Nichols Farm
Nichols Field from Guinea Road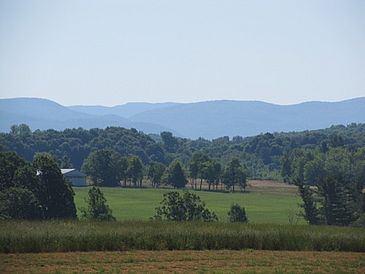 Dave Nichols has operated his farm on the edge of the East Charlotte Village for 40 years and during that time the farm has evolved from dairy to a successful fodder crop operation. Dave's principal crop is hay but he has also experimented with alternative crops, including soy. The land is well suited for agriculture with 74% of the acreage to be conserved ranked as either statewide or prime soils. Also included in the conservation project are 20 acres of clayplain forest, wetland and wildlife habitat associated with Bingham Brook. The Nichols are granting a 3720' trail easement to the Town of Charlotte, which will become a portion of the East Charlotte trail system as it is developed.
Dave and Diane are conserving 226 acres of the total 311 they own. Because the land is highly scenic, developable and valuable it is necessary to exclude a portion of the total acreage from the project to stay within fundable limits. There is no plan to develop the remaining acreage and future conservation is a possibility. Dave and Diane have committed to a very generous bargain sale (selling the development rights at less than appraised value) representing 15% of the easement cost.
The Hausmann Farm
Looking to the North From Center of Hausmann Field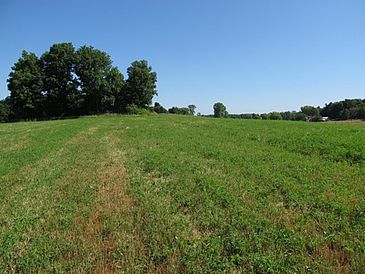 Adam Hausmann has run a very successful berry farm at Burlington's Intervale since 2002. Repeated flooding, particularly last year, has convinced him it is time to purchase his own land in a more secure setting. A long search has led him to land owned by Nancy Hinsdale in East Charlotte. Adam will buy 58 acres, which will be conserved, from the total 136 acres. That acreage is ideally suited for berries and orchards with 94% ranked as either prime or statewide soils.
Adam will grow a variety of certified organic berries, grapes and orchard fruits. His produce will be sold through a pick your own farmstand and to established wholesale accounts. Adam is committed to education about local and sustainable foods and he has worked closely with school and other groups at his Intervale farm. That commitment will continue on his Charlotte land and together with his pick your own business will provide access to this scenic parcel for many.
The establishment of Adam's Berry Farm in Charlotte on a conserved parcel will not only preserve highly productive agricultural land, it will further diversify Charlotte's agricultural economy and bring a young and successful farmer into our Town. Nancy Hinsdale shares in the commitment to conserving this land and is making a significant contribution to the project through a bargain sale (selling the development rights at less than appraised value) representing 12% of the total easement cost.